Director's Profile
Governance
Infrastructure
Laboratories
CDL Notification
Govt. Analyst
Monograph
Sample Tracking
Inventory Module
Tenders
Collaboration
Proficiency Testing
Haemovigilance Programme of India
Suppliers Log
Annual Report
Publications
ARCHIVE
Download
Photogallery
National Institute of Biologicals has been established as an autonomous organization under the Ministry of Health & Family Welfare (MOH&Fw)-Government of India. registered in January 1992 ( vide No. S-22590) under the Societies Registration Act 1860. laid down in Bye-Laws of the institute.

The institute responsibly assures and reviews the quality of number of Biological products available through domestic manufacturers or imports. The operations are carried out in the state of the art Facility of the Institute and in close coordination with Government of India regulatory authorities as Office of Drug Controller of India, Indian Pharmacopeia Commission.

With the current science and technology leading to the development of newer biologicals in the domestic market, the testing and specifications may vary for each specific products which requires an improved understanding of quality and safety issues .In recent years the licensing and quality control for manufacturer and National Regulatory Authorities alike has become even more complex. With this overall objective and to strengthen regulations of biologicals in India , NIB which supported by the authorities constituted of Governing body and General Body of the Institute plays a vital role.
Sample Receipt and Report Dispatch Unit (SRRDU) procedure
SRRDU has been set up as independent unit in 2008. The sample receipt unit being the main entry point of all samples to the Institute for testing, this unit has been accredited by NABL for elaborate documentation procedures. The Standard Operating Procedures (SOPs) have been amended to regulate Sample receipt to make the system flexible.

Quality evaluation

The Institute has undertaken systematic evaluation of biological products as per Pharmacopoeia /WHO requirement for 1516 batches during the year 2012-13 as compared to 1093 batches tested in the year 2011-12.
Complaints
Complaints, if any, are treated as confidential and given due consideration unless otherwise desired by the Government or by law.Complaints can be through any means of communication e.g. letters, e-mails, fax, and telephones (to be followed by written complaint).
All stored samples received for quality testing at NIB are finally destroyed as per standard operating procedures of discarding stored samples.
Type of Biologicals products tested :
| | |
| --- | --- |
| Diagnostic Kits | HIV/HBsAg/HCV (Rapid & ELISA Confirmatory Combo kits |
| Blood Products | Albumin, Normal & Specific Human Immunoglobulin (IM/IV) Plasma Protein Fraction, Factor VIII, Factor IX and Sealant kits. |
| Recombinant Products | rh. Insulin & insulin analogues (vials, Prefilled syringes & Cartridges), Exenatide, rh. Erythropoietin, Interferon and rh. GCSF (Granulocyte Colony Stimulating Factor) |
| Blood Reagents | Anti-A/B/AB, Anti-D (IgG)(IgM), Anti-D-(IgG+IgM), Blood Grouping Kits (Cards for Reverse & Forward grouping) |
| Enzyme & Hormones | Streptokinase, Menotropin, Human Chorionic Gonadotropin (hCG), Follicle Stimulating Hormone (FSH normal & Recombinant), Heparin |
| Biochemical Kits | Glucose Reagent & Blood Glucose Test Strips |
Documents required for the sample submission.
Copy of import license ( imported samples)
Certificate of Analysis from the manufacturer/NCL
Batch release certificate from NCL/NCA
Name of three countries where the product is being marketed
Certificate to the effect that the product has not been withdrawn from the market of the
country of origin and exporting countries
Manufacturing and QC protocols of the product.
Quantity Required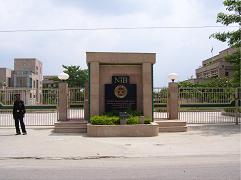 Front Gate